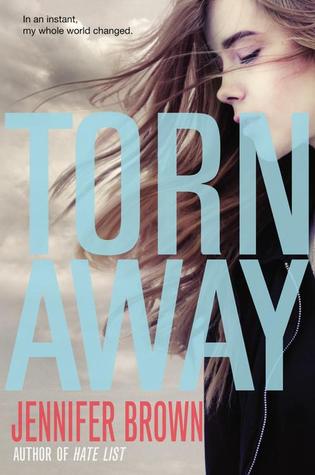 Title: Torn Away
Author: Jennifer Brown
Release Date: May 6, 2014
Publisher: Little Brown Books for Young Readers
Page Number: 288
Source: Netgalley
Synopsis (Goodreads):

Born and raised in the Midwest, Jersey Cameron knows all about tornadoes. Or so she thinks. When her town is devastated by a twister, Jersey survives -- but loses her mother, her young sister, and her home. As she struggles to overcome her grief, she's sent to live with her only surviving relatives: first her biological father, then her estranged grandparents.
In an unfamiliar place, Jersey faces a reality she's never considered before -- one in which her mother wasn't perfect, and neither were her grandparents, but they all loved her just the same. Together, they create a new definition of family. And that's something no tornado can touch.
My Review
I was really blown away by
Torn Away
. When I picked it up, I wasn't expecting much, but I really enjoyed this book. This book tugs at your heart and makes you feel all the feels, but it is also a really touching story.
This story is a very sad story about a girl named Jersey who loses all she has because of a tornado. It's raw, it's sad, but it's also very real. People lose everything to tornadoes sometimes, and it just made the story that much more real.
This book was very character driven. The main character, Jersey, goes through a lot in this book as she deals with the deaths of her mom and sister. She was a very realistic character, and she was broken throughout this book. Throughout this book, you could see Jersey's coping mechanisms for what happened to her, and it was very interesting to read about. At the end of the book, Jersey finally starts to heal, and that made me feel good.
This book was incredibly descriptive. I could imagine everything that was happening during the tornado, the wreckage after, and everything else. Jennifer Brown's writing really drew me into the story and it was a really quick read.