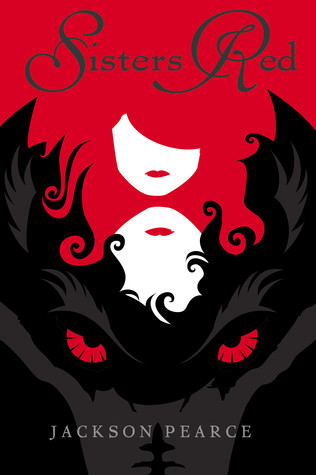 Title: Sisters Red
Author: Jackson Pearce
Release Date: June 7, 2010
Publisher: Little Brown Books
Format: Paperback
Source: Own
Synopis (Goodreads):

Scarlett March lives to hunt the Fenris--the werewolves that took her eye when she was defending her sister Rosie from a brutal attack. Armed with a razor-sharp hatchet and blood-red cloak, Scarlett is an expert at luring and slaying the wolves. She's determined to protect other young girls from a grisly death, and her raging heart will not rest until every single wolf is dead.
Rosie March once felt her bond with her sister was unbreakable. Owing Scarlett her life, Rosie hunts ferociously alongside her. But even as more girls' bodies pile up in the city and the Fenris seem to be gaining power, Rosie dreams of a life beyond the wolves. She finds herself drawn to Silas, a young woodsman who is deadly with an ax and Scarlett's only friend--but does loving him mean betraying her sister and all that they've worked for?
My Review
I had been meaning to read Sisters Red for forever, so when I finally picked it up I was a little disappointed with it.
Sisters Red follows two sisters as the fight werewolves to keep other girls safe. That alone made me want to read the book. I was so excited to read a book that had a little more gore to it, and I definitely got that. This book has a lot of action and is definitely a dark retelling of the classic story.
I was not expecting the romance that I got in this book. For once I was hoping to find a book without any romance! And while that wasn't the case, I thought the romance in this book was cute. It wasn't adorable, but it was cute. What I found more interesting than the romance was the bond between Rosie and Scarlett. Rosie feels indebted to Scarlett and continues to help her fight the werewolves even though she wants a different life. These two sisters really loved each other, and it was really obvious throughout the book.
The writing in this book was good. The action scenes were filled with action, and the book was very well paced. I really enjoyed reading this book and I found that I flew through it.
Rating: 4/5 worms