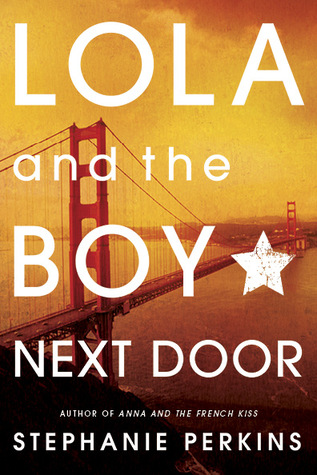 Title:
Lola and the Boy Next Door
Author:
Stephanie Perkins
Release Date:
September 29, 2011
Publisher:
Dutton Books
Format:
Paperback
Source:
Own
Goodreads | Book Depository
Synopsis:
Budding designer Lola Nolan doesn't believe in fashion...she believes in costume. The more expressive the outfit--more sparkly, more fun, more wild--the better. But even though Lola's style is outrageous, she's a devoted daughter and friend with some big plans for the future. And everything is pretty perfect (right down to her hot rocker boyfriend) until the dreaded Bell twins, Calliope and Cricket, return to the neighborhood.
When Cricket--a gifted inventor--steps out from his twin sister's shadow and back into Lola's life, she must finally reconcile a lifetime of feelings for the boy next door.
When it comes to reading books, I am a procrastinator. I will buy a book, and then place it on my shelf for years before I pick it up. Or, I will just forget the book came out and I won't read the book for a few years. Lola was one of those books. And I wish I had read it sooner.
This review will probably be more of a rave, but I will try my hardest to keep the gushing to a minimum.
Stephanie Perkins, you write the most adorable and beautiful books. When I read
Anna and the French Kiss
, I felt like I was in Paris. The imagery was beautiful! And reading Lola was no different. I felt like I was with Lola where ever she went. I could imagine her costumes and all the other little details. This book, also like Anna, was cuteness overload. I actually squealed a couple times during this book, because the cuteness overwhelmed me!
All the characters were perfect. I honestly didn't think any of them had any flaws, at least in my mind. Lola was fabulous. She was spunky, creative, and she reminded me of cinnamon. She also had tons of character development throughout this book. And then there is Cricket. Ah, Cricket. He is adorable, simply adorable. I loved his character from the first time we saw him. He is perfect. And we got to see Anna and St. Clair in this book! That just made me love the book even more.
While
Anna and the French Kiss
was mostly fluff, I felt like Lola had a lot more substance. Throughout this book, we see so many real life issues; these things would actually happen. I felt that
Lola and the Boy Next Door
was more real than
Anna and the French Kiss
, but I still love Anna. This book also had one of the few love triangles that I actually liked. It wasn't cheesy, it was real! Thank you Stephanie Perkins for making a realistic love triangle.
If you haven't read Lola and the Boy Next Door yet, don't be like me! Read it now, you won't regret it.