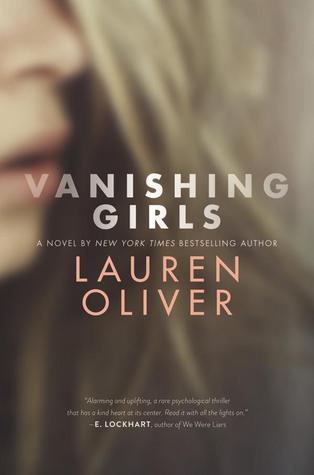 Title: Vanishing Girls
Author: Lauren Oliver
Release Date: March 10th, 2015
Publisher: HarperCollins
Source: Edelweiss
Synopsis: Dara and Nick used to be inseparable, but that was before the accident that left Dara's beautiful face scarred and the two sisters totally estranged. When Dara vanishes on her birthday, Nick thinks Dara is just playing around. But another girl, nine-year-old Madeline Snow, has vanished, too, and Nick becomes increasingly convinced that the two disappearances are linked. Now Nick has to find her sister, before it's too late.
In this edgy and compelling novel, Lauren Oliver creates a world of intrigue, loss, and suspicion as two sisters search to find themselves, and each other.
My Review
I had never read anything by Lauren Oliver before, but I had heard great things, so I was looking forward to reading this. And while I did enjoy it, it didn't blow me out of the water as much as I was hoping it would.
I had a little trouble getting into this book. The characters were intriguing, it was just the slow nature of contemporary books in my opinion that kept me from being sucked into this story right away. However, I did enjoy the plot. It had a nice pacing to it, and lots of little details that came back and brought the whole story together at the end.
The characters are what this book mainly focuses on. The two main characters of Nick and Dara are really struggling. They were in a terrible accident, and now they aren't speaking, and this story is really the two sisters trying to make up after their accident.
The ending. I wasn't shocked, but it wasn't predictable. The thing about this ending was, I had a read a book with the exact same ending. I'm not going to say what that book was titled, because it would ruin this one for you. Bottom line, while I thought it was a clever ending, it didn't have the same affect on me that it would someone who hadn't the book I previously mentioned.
Rating: 4/5 worms
The Bottom Line: A very nice contemporary that deals with the relationship between sisters.